Toilet Paper is Confusing is a still-evolving project.
Perhaps a collection of essays.
Maybe a radio story or two.
An eventual podcast of sorts?
Would you like to help me figure it out?
Literary agents, radio producers, collaborators, potential suitors, or anyone else interested
in participating in a rescue effort please e-mail:
myownroom@gmail.com or info@toiletpaperisconfusing.com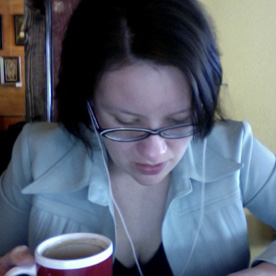 As a toddler, Wendy Mitchell cried every time she heard You Are My Sunshine, and she was very particular about nighttime stuffed animal placement. Many years later, she studied Art and Art History at The University of Georgia, wrote a lot of songs, and eventually moved to Austin, TX. There, she quickly realized that Ctrl+Z was much more efficient than a Kneadable Eraser. Since then, she has worked as a graphic and web designer/developer, animator, writer, song-crafter, production designer, and general creative problem-solver.She has written a column for Austinist.com (Hello, My Name Is), played in a band, The Casting Couch, and embarked on some theatrical experiments and interactive art installation projects (The Silent City). She currently runs The Stuffed Animal Rescue Foundation, occasionally shoots cans off of her porch from her bedroom with a Red Ryder BB gun, and plays a lot of volleyball. She has excellent hand-eye coordination and is intermittently working on a play or PowerPoint presentation based on a fictional reality TV show involving advertising, marketing professionals, sadness, the internet, and outer space.
Email Wendy Mitchell:
myownroom@gmail.com
(because gmail is just so freaking easy)
I'm not great at social media stuff. If you'd like to stay in touch, please enter your email address below. I won't send you anything annoying… just very rare updates about, or links to, new essays or episodes when they happen! This project is obviously evolving, so bear with me. Thank you!